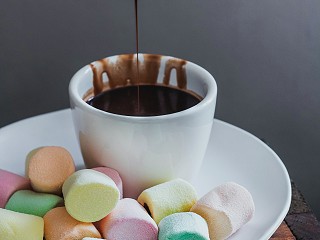 In the last couple of weeks, I've been told some wonderful stories about celebrations. They're always about the brilliant creativity shown, the joy shared, or when something went hilariously wrong.
I've heard about the fish-and-chips wedding
The birthday cake with no icing for an 8-year-old that was filled with toy dinosaurs for the child paleontologists to excavate with spoons
The funeral where everyone wore the brightest colours in their wardrobe to honour the wishes and reflect the personality of the deceased.
But as one of the comments on social media pointed out, not all celebrations have to be big. Little rituals can not only be more meaningful to the participants, they can be had often, which means we are spreading little bits of joy throughout the year, rather than saving it up for one or two special times.
Celebrations are important, because they foster connection between the people who share them; give a sense of meaning and significance in our lives, and they can make our lives feel richer and more memorable. And the lovely thing about little rituals is that they are completely individualistic and non-commercial (so ideal for all those people who hate the advertising and push to spend that surrounds the standard celebrations.) We don't have to spend huge amounts of money on them, or follow an exact template. Plus we can drop or evolve them if they no longer make sense in our lives.
I'm adapting a Christmas family ritual from the Northern Hemisphere that I've always envied: "Candlelit Christmas Eve". On December 24, once it gets dark, no electric lights, just candlelight. Sounds so cosy, but here, it doesn't get dark until around 9.30pm on Christmas Eve. So we're holding a "Candlelit Mid-Winter Evening" this weekend.
Family achievements can be celebrated with small treats (we had marshmallows dipped in melted chocolate for dessert if anyone came home with a certificate in the primary school years)
TGIF is really just adults celebrating getting through another week.
The less commercialised religious festivals can also provide a reason to do something out of the ordinary – eating your own body weight in pancakes on Shrove Tuesday, or getting dressed up in bright colours for Dwali.
Or you could consider that every day is a 'celebration day' according to the calendars linked to below. Pick your favourite reason to celebrate as often as you feel the need.
And Happy National Ice-Cream Sundae Day to you all!
https://www.daysoftheyear.com/days/jun/20/
https://www.timeanddate.com/holidays/fun/
Photo by Eiliv Aceron on Unsplash