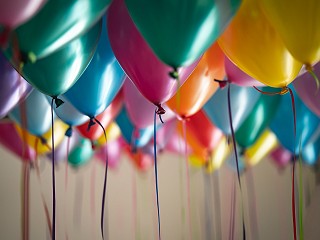 The foundation of financial stability is to be able to pay for large, irregular expenses without having to go into debt. Stability is a key to happiness. But in most cases, being able to pay for these expenses does not 'spark joy'.
That's because these costs come with that slight bitterness of feeling like you're no better off, despite the large sums of money they require. Like when you have to pay to repair a car that was fine as far as you knew, but which failed its warrant of fitness.
Yes, it would be worse if you couldn't pay for the repair. Yes, a safe, road-legal car is a need. But the best feeling we can hope for when we pay for the repair from savings put aside for that purpose, is the absence of stress. A matter-of-fact "I thought that might happen – oh well!"
Celebration expenses are different.
I hope you know by now that celebrations don't have to be expensive.
But sometimes, we want them to be. It's a celebration! When else do we get to be extravagant?!
When expensive celebrations are paid for from savings put aside for that purpose, it's pure joy. We get to experience the absence of stress, plus we feel better-off, (because look at this great celebration I'm having), and we get all the good feelings that come with any-size celebration - new memories, feeling closer to our loved ones, being able to take a moment out of our busy lives to acknowledge somebody or something.
Because of the joy they bring, celebration costs are a great way to start your periodic expenses calendar.
You probably already know when all the things you celebrate will happen, but money-wise, you need to know when you will pay for the costs involved. For example, going to an out-of-town wedding may involve travel and accommodation expenses months in advance of the actual day. Birthdays that fall at the start of a month often mean that presents are purchased the month before.
While I fully recommend this process, I also recognise that for some people it can be either tedious, or terrifying, or both. If you'd like the end result, but don't want to get started, book at 30-minute time to chat on the calendar link below. Helping clients sort out this kind of thing is exactly what I do.
Photo by Adi Goldstein on Unsplash